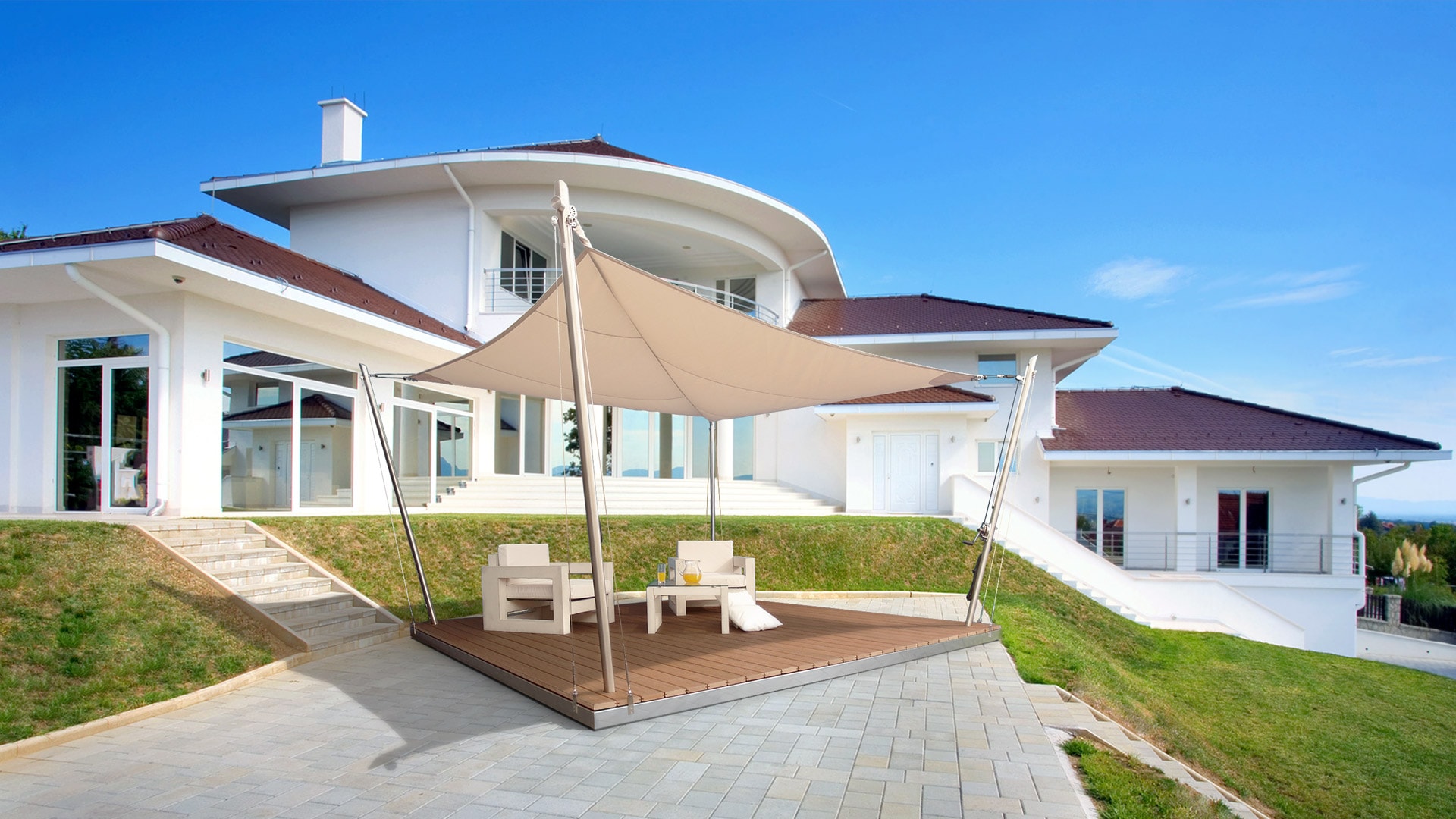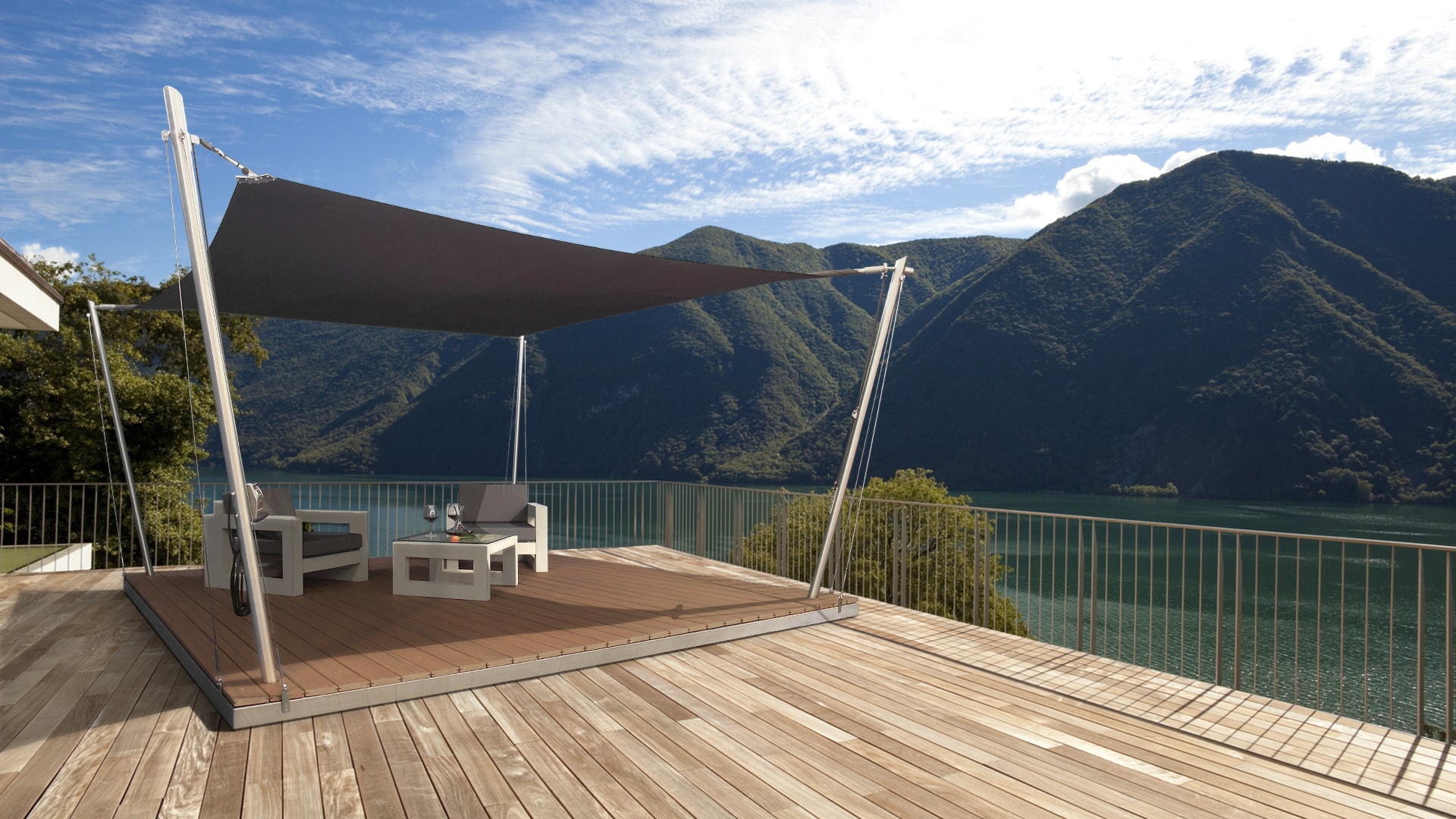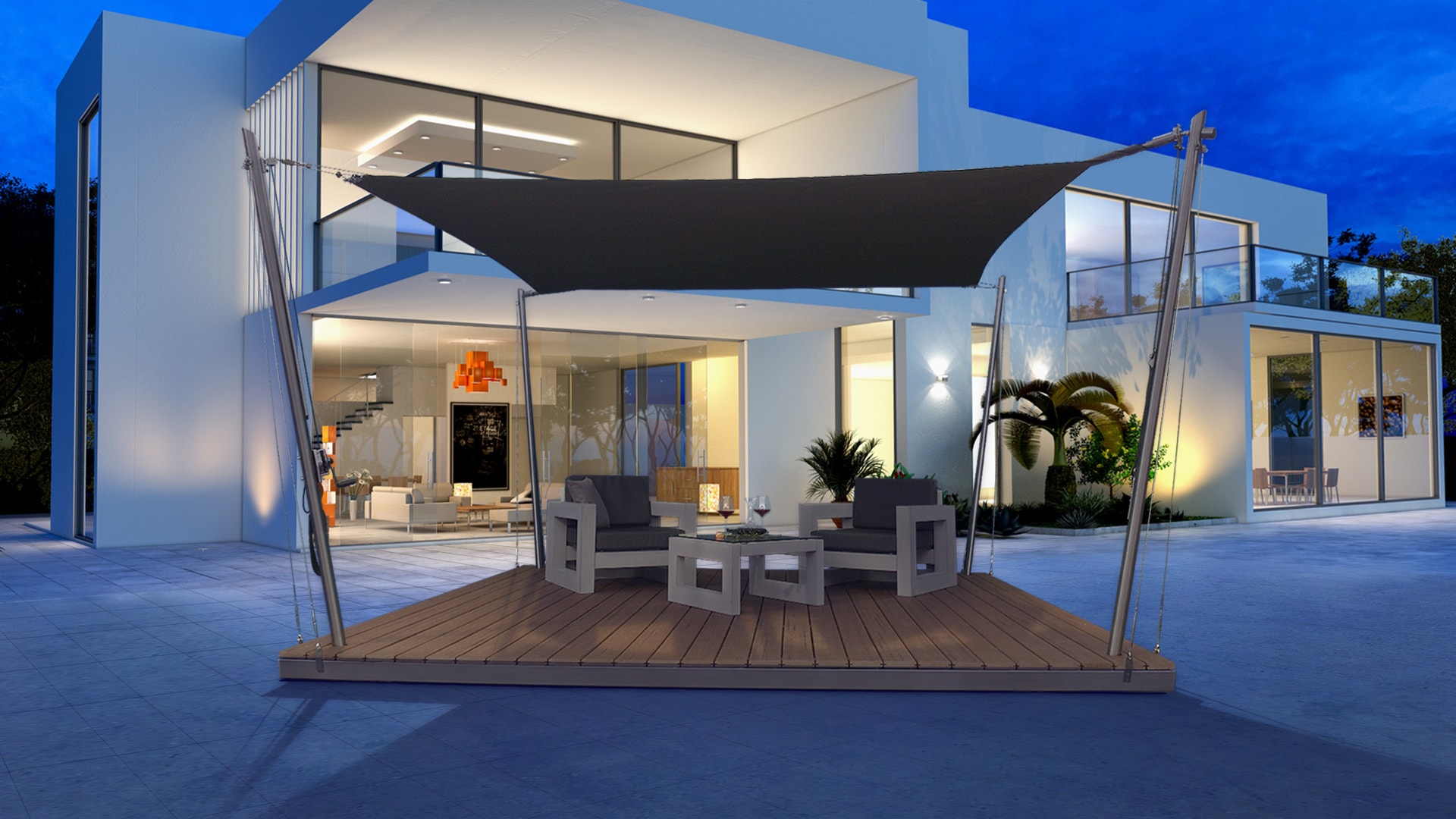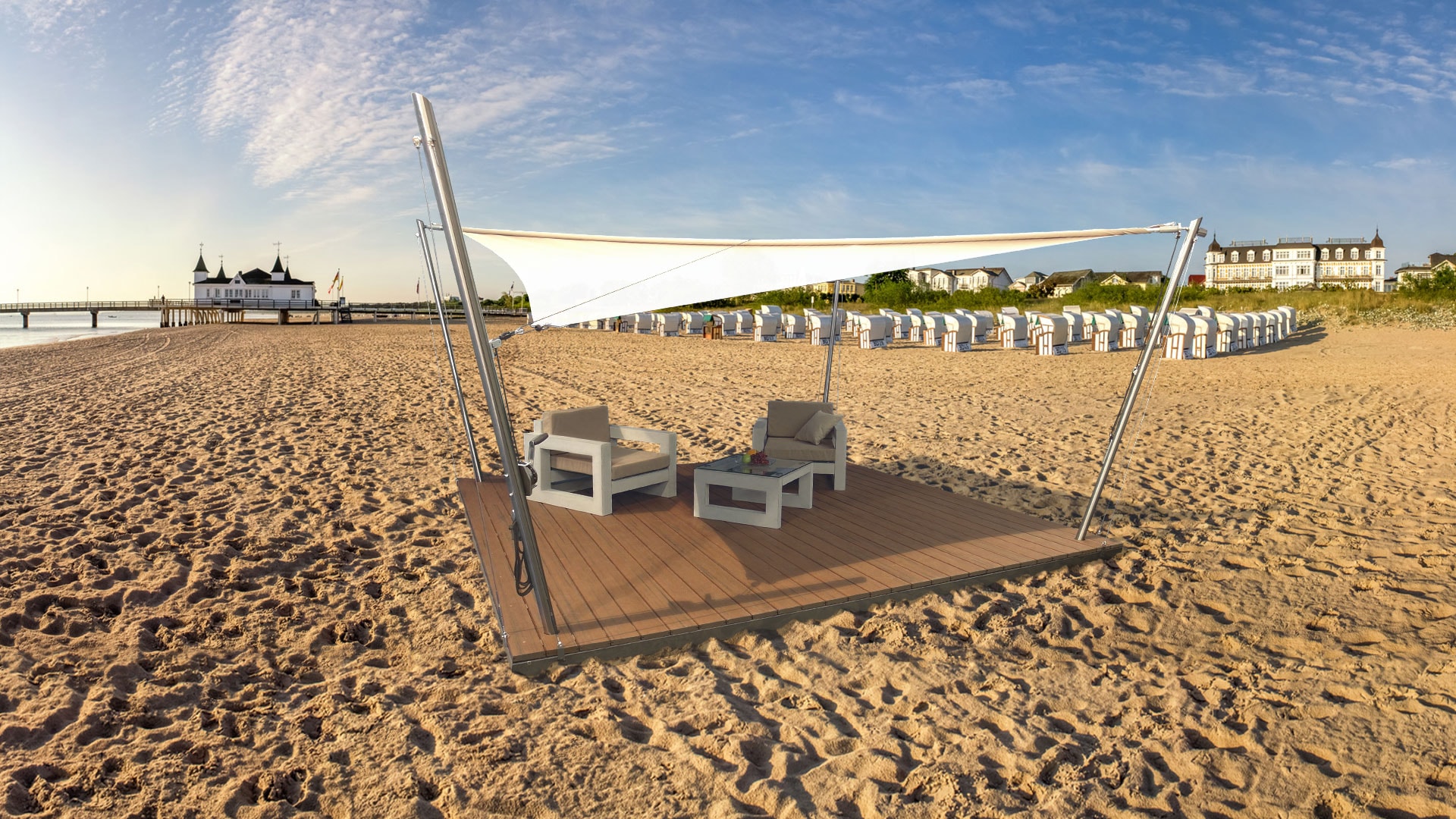 Vela Lounge – A Top-Class Solar Sail Patio!
A ready-made patio manufactured from high-quality UPM floor boards installed on a stainless steel frame lends a modern appearance to your outdoor space!

The Vela-Lounge can be assembled anywhere in your yard, on the beach, in public places or for a limited duration event with little effort.

The solar sail system made from state-of-the-art materials is particularly eye-catching and provides sufficient shade and protection from UV-rays.

The precisely functioning and specially selected stylish sailing sports components give the solar sail system a nautical appearance!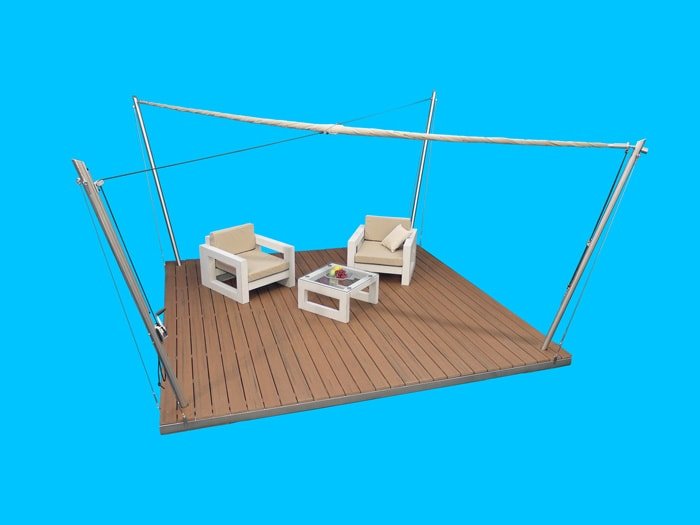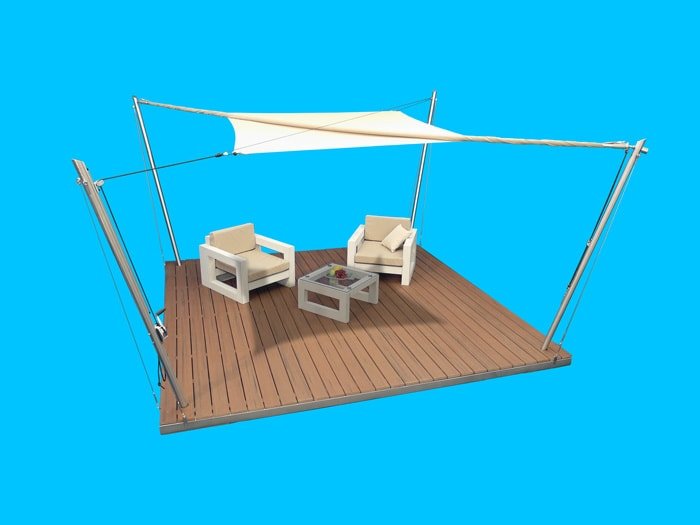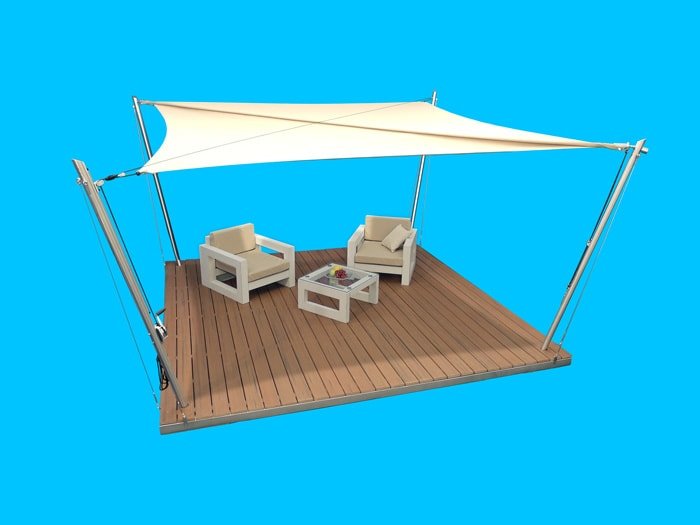 The Vela Lounge is an area for everyone seeking an extraordinary experience to relax!

Technical Data/Shipping Volume
Patio Surface:

Stainless Steel Frame Construction, V2A
Pro-Patio Tile UPM (available in 6 different designs/colors)
Solar Sail:

Manual roll-up solar sail system manufactured from high-quality aluminum and stainless steel components, V2A/V4A
Canvas made from weatherproof and UV-resistant polyester fabric, waterproof, (available in 3 different colors)
Measurements:

400 x 400 cm (other sizes available upon request)
Non-committal price: EUR 13,798.00 incl. 19% VAT
The Vela-Lounge assembly/dis-assembly is quick and easy.

It offers easy handling and longevity.

All materials are extremely weather-resistant and durable.

The solar sail system protects from the sun as well as rain, and resists high wind-loads!


Of course, the Vela-Lounge is also available in a fully automated roll-up version.

As far as comfort is concerned, an electric roll-up solar sail system leaves nothing to be desired.

Operation with a handheld transmitter provides the desired shade quickly and conveniently in an infinitively variable size.

The integrated sun, wind and rain sensor adapts operation according to the weather.
The Vela-Lounge Premium is available for an all-inclusive price of
Non-committal price: EURO 16,565.00 incl. 19% VAT

The Vela-Lounge canvas is available in three different colors.
SLATE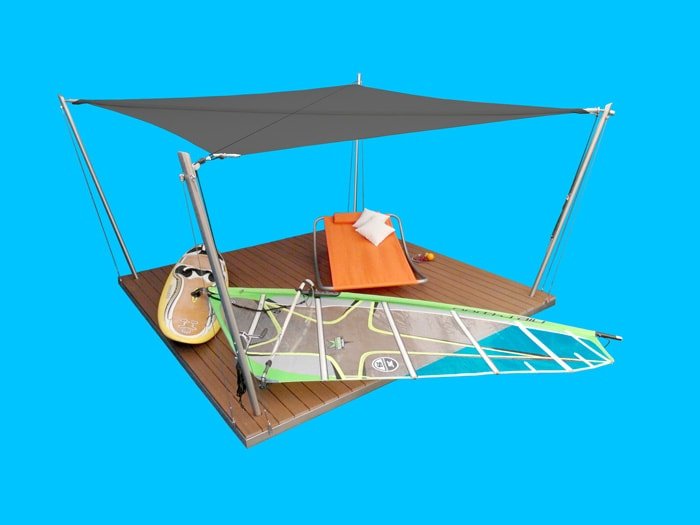 SANDSTONE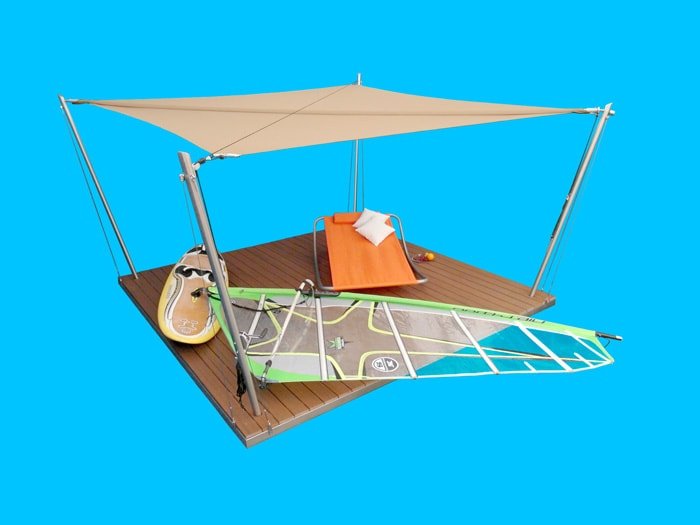 OYSTER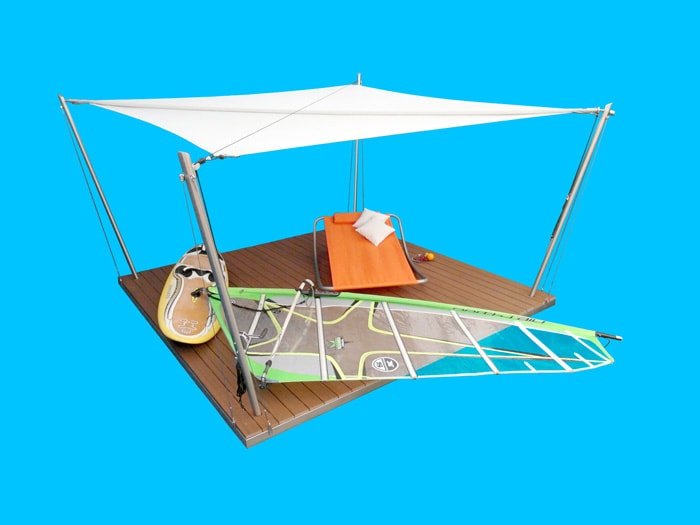 In addition, you can furnish your Vela-Lounge with stylish concrete furniture. The powerful design complements the material aesthetics of the patio tile.

Concrete Lounge-Chair
Seat made of VSG-glass
Seat and back cushions made from high-quality polyester fabric
Polyester fabric available in 3 different colors
Cushion: PUR-Foam Core
NCP/each: EURO 1,778.00
Concrete Lounge Table
Table top made from high-quality VSG-glass
Measurements: W/L/H = 70/70/39 cm
NCP/each: EURO 978.00

The Vela-Lounge is shipped for do-it-yourself assembly or can also be assembled by our specialists upon request!
(The Vela-Lounge Premium version is available with assembly only!)
Got any questions? We are happy to answer them for you!